RUSS granted planning for training Hub and Self Build housing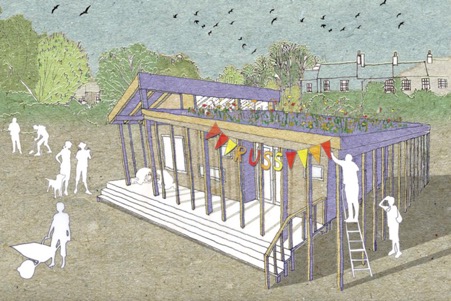 Rural Urban Synthesis Society (RUSS) has been awarded planning permission for its community-led housing custom build scheme in Lewisham, London, together with London's first training facility for would-be community self-builders.
The innovative new training facility, the 'Hub', will be built in Ladywell on part of the land set aside for a new 33 home affordable self-build housing project. The Hub will be the first part of the project to be built on site, with RUSS calling on some of its 800+ volunteers so that construction work can begin later in the summer.
In 2017 RUSS led a successful crowd funding initiative for the project, which raised a total of £55,000 for the project from more than 300 backers. This included donation of £30,000 from the Mayor of London's Crowdfund London initiative, while the Lewisham Assembly provided a grant of £2,500.
The 'Hub' project will offer people the opportunity to get hands-on experience of building, and it will showcase different natural building techniques such as timber, straw bale and rammed earth. It will also be available for the local community to use.
RUSS intends to source materials locally so that the project supports the local economy. The team behind the 'Hub' also want to use as many reclaimed and recycled materials as possible and they are keen to experiment with off-grid technologies such as rain water collection.
Once built the space will host RUSS's School of Community-Led Housing with the goal of sharing and inspiring other communities in self-building and affordable housing projects.
RUSS's Hub
The project will include:
Designing and building the single-storey 10 x 6m structure on the site in Church Grove, Ladywell. The 'Hub' will then be used during the main construction phase of the new homes – from late 2018 onwards until approximately 2022.
The structure will host a series of workshops and build-days where anyone can come and learn about the construction of the new homes.
The 'Hub' will also be available to local people as a community space.
RUSS is a Community Land Trust that was inspired by the Walter Segal Walter's Way in Lewisham, a 1970s self build housing housing scheme. The group was founded to give another generation the opportunity to have some input into creating their own homes, and providing valuable affordable housing for local people.