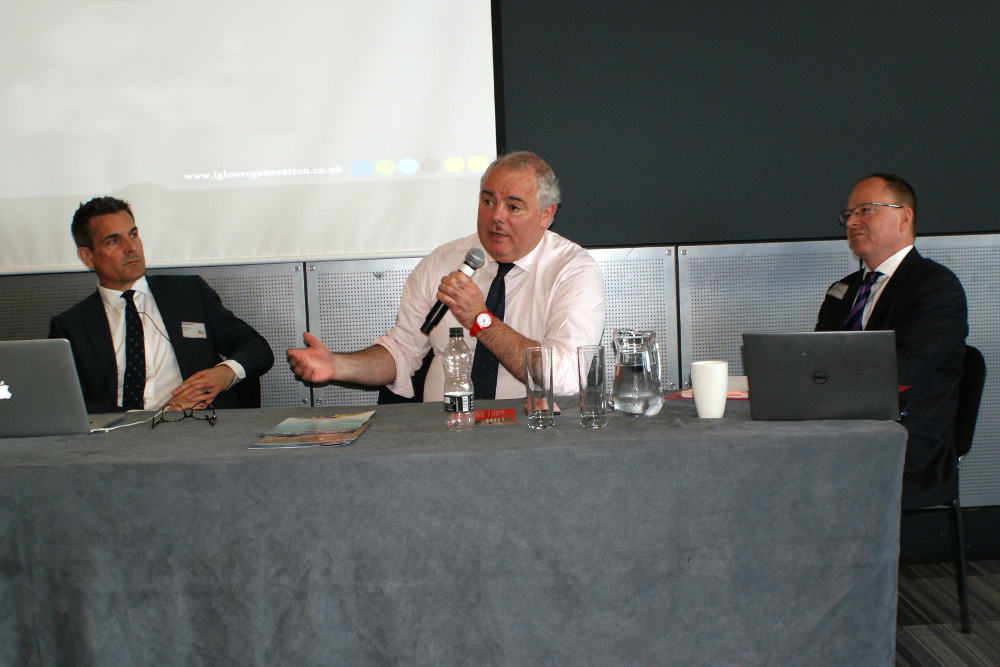 London Older Lesbian Cohousing (LOLC) has become the first community-led housing group to benefit from officially working with the Right to Build Task Force. Announced at the recent Right to Build Expo:Unlocking the Potential of Custom and Self Build, London, in May, LOLC will be advised by the Task Force team, helping the group realise the next stage of their project to deliver 20-25 older living homes with shared living spaces.
Founded in April 2016, the group's cohousing model will support it to build a caring solution for older living as an alternative to the alternative open market choices. This will enable LOLC's residents to live together in an independent, but mutually supportive environment that embraces the groups' values and lifestyles.
The community facilities common to cohousing make it an ideal choice for people with diverse life experiences but similar ambitions for an autonomous yet supported later stage of life.
For the residents, cohousing offers a vision for interdependent living underpinned by a community ethos, which helps limit the isolation that can come with aging.
It's a formula that's been successfully realised by the Older Women's Cohousing group in Barnet, and there are more and more older living community-led projects coming online. This reflects the lack of diversity currently available in the senior living market.
The group is supported by Waltham Forest Council and Locality, the national network that supports community organisations, which is itself funded by the Nationwide Foundation.
Jude Watson, LOLC member said: "It's great to have the support of the Right to Build Task Force to help us progress to our next stage. We are now a company and have developed our business plans with help from the Task Force and the Community Led Housing London.
"We are developing our site and design specs further, ready to work with housing provider partners. It's great that our 'intentional' community for older lesbians is being recognised as a way forward for diverse older housing communities."
How the Task Force can help community-led projects
The Right to Build Task Force works to bring on Custom Build projects at scale and with an emphasis on affordability, and a key aspect of this ambition is for it to support community-led projects.
Starting with its work with LOLC, the Task Force will be working closely with the London Community-led Housing Hub to ensure that learning is captured and shared with other groups. It will feed learnings from these experiences into work with community-led housing across the UK.
The Task Force is able to provide targeted advice to a range of stakeholders, helping them take their ambitions for Custom Build to the next stage. Typically, as a professional body the Task Force works with local authorities, landowners and others, but it is also able to work with community-led groups using a range of models, such as cohousing, community land trusts and co-operatives.
The scope for advcie is wide, but with London Older Lesbian Cohousing it is supporting the group as it creates a site specification and looks for potential locations. In addition, the Task Force will work with it to create a shortlist of delivery partners prior to selecting a funding model.
Mario Wolf, Director of the Right to Build Task Force, said "We have a significant lack of diversity in the housing opportunities available to older people in our housing market. Custom and Self Build housing offers older people a better choice of accommodation and can help them to live independently for longer and help reduce costs to our social care and health systems.
"Senior cohousing schemes like the recently completed New Ground project in High Barnet really show what can be achieved in such projects and how they can create affordable, high quality homes which improve the quality of life of our older citizens whilst freeing up more homes for other buyers."
Community-led groups interested in getting support should get in touch through the Right to Build Toolkit, and as community-led housing they are eligible for a discount work rate.
Anyone looking to set up their community-led housing group should sign up to the Right to Build registers in the areas they are considering, by visiting the Right to Build portal at www.righttobuildportal.org.
The next Right to Build Expo is taking place in Glasgow on the 20 June.

Photo: NaCSBA Chair Michael Holmes, Richard Bacon MP and Mario Wolf at the Right to Build Expo London.