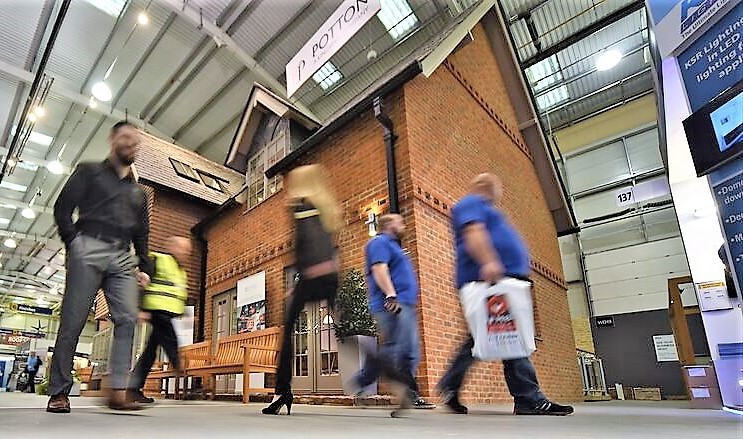 Don't miss theNational Self Build & Renovation Show, 11–13 May at the NSBRC, the UK's permanent centre for everything Custom and Self Build. The show is a packed three days of demonstrations, seminars and an unrivalled line up of experts on hand to share their advice.
Produced by the National Self Build & Renovation Centre (NSBRC), it's the ideal event for anyone wanting to build a new house from scratch or create a bespoke Custom Build home.
With 53% of people in the UK interested in building their own home, the exciting line-up of seminars on offer will cover everything you need to get started. And these free presentations offer a real opportunity for you to grow your knowledge, from planning and plot finding, to financing and timber frames.
Over 240 exhibitors will be showcasing the latest products and technologies, with experienced representatives on hand to demonstrate, answer questions and offer professional advice.
Guided tours of the NSBRC's informative educational zones, featuring a life size 'Renovation House' and 'New Build Journey' help visualise these products as part of your finished project. Plus, brand new for 2018 are the Soapbox Talks – Rapid fire introductions to the latest building products & innovations.

The NSBRC's own team of impartial experts, along with architects, project managers, designers, planners and eco consultants, will be on hand for one-on-one sessions throughout the show. Offering free advice, they will happily talk through your ideas, no matter how big or small, and offer their expert opinions and guidance on even the trickiest of questions.
Whatever stage your project, there will be an expert available to look at your plans and offer feedback on where to start, the best building methods and materials for the job, advice on the latest legislation or just checking that a quote sounds reasonable. Check it out on YouTube, here!
Show highlights
Over 20 seminars
Live demonstrations
Case studies
Panel debates each day
Self Build course taster sessions
One-to-one expert advice
NEW! Soapbox talks

A NaCSBA initiative, National Custom and Self Build Week, 7-13 May 2018, is working to get more people signed up to their Right to Build registers at www.righttobuildportal.org
The National Self Build & Renovation Show is easy to get to: NSBRC, Junction 16 of the M4, with free parking, Tel: 0345 223 4455.
The Show runs from Friday 11th to Sunday 13th May with FREE advance tickets.