Calling all pioneers
The government's custom build pilot scheme has launched its first phase of development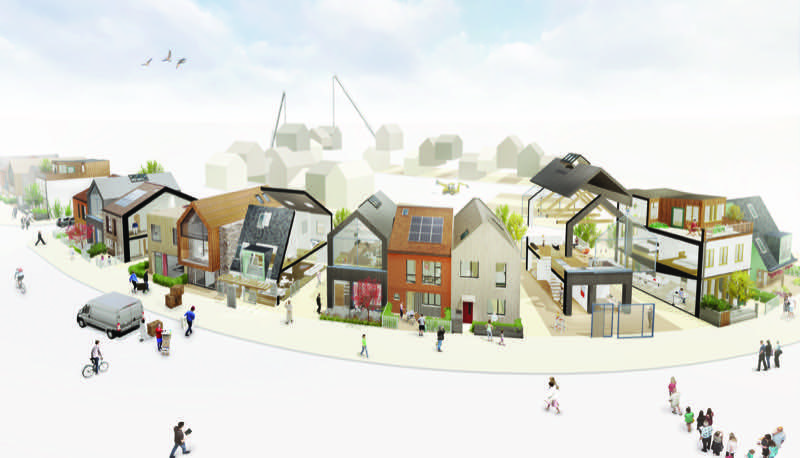 30 July 2016
If you're looking to create your own bespoke home, you may be interested in becoming a pioneer for a flagship custom build development in Pool, Cornwall. The Homes and Communities Agency, together with Carillion-igloo, has launched the first phase of its custom build pilot site, and is looking for prospective homeowners.
The innovative development will eventually comprise over 50 bespoke homes, created with the five-step 'HomeManufacturer' approach. After selecting a plot, this method offers buyers the choice of working with one of six housing providers – Balehaus, Dwelle, MyHouse, Lightbox House, LittleBig House and Potton – to come up with a suitable design, size and layout. The first phase will see the development of a terrace of six properties, allowing for one of each HomeManufacturer's houses.
The location itself has much to offer, too, as well as providing stunning views of the historic Carn Brea, there's a park and play area, cafe and easy access to local amenities. 23 plots will be situated on the outer edge of the site, facing onto the Heartlands complex, and 31 plots will surround the new village green. "The first six houses will be built when we have our pioneers – who will open their doors as show homes to prospective future buyers," says Igloo's Jon Sawyer. "We hope the first of the homes will be completed in spring 2017."
Heartlands is already garnering much attention from the design and architectural community and has recently won a prestigious Housing Design Award for the project's innovative model. "It's a very different approach to home ownership, especially in comparison to a traditional home-buying model," says Jon."We are only selling to owner occupiers, as we are keen to build a very sustainable, very community orientated place – for example, we want people to come together and design the village green."
For more information or to register your interest, visit the HomeMade at Heartlands website.