11 January 2013
As part of the Government's land auction pilot programme, Hastings Borough Council is selling two plots of land, subject to planning, in Ore, a suburb to the North East of the Sussex town of Hastings. And it promises a preference to self build projects.
Hastings Borough Council, in collaboration with the Homes and Communities Agency, is looking for expressions of interest for the land on the junction of Clifton Road and Church Street. The total area covers approximately 0.26 ha (0.64 acres) and both sites are allocated for residential use.
At just over half-an-acre, there is scope to either buy the land for one or two homes, or use it to provide plots for several self builders. Amy Terry, Manager of the Estates Service at Hastings Borough Council said: "We haven't made any detailed assessment but historically there was a proposal for seven houses. The site is allocated for residential use in the adopted Hastings Local Plan 2004, but does not currently have outline planning permission."
So is this opportunity really aimed at self build developers rather than individuals? "We wouldn't wish to exclude anyone", Amy added.
In the Government's Spring 2011 budget, an experiment with 'land auctions' was announced. Councils were encouraged to support the pilot scheme which involves an auction on publicly- owned plots of land, with planning permission, in a push to stimulate development. The progress of the scheme was initially dogged with delays, especially by a dispute over the National Planning Policy Framework.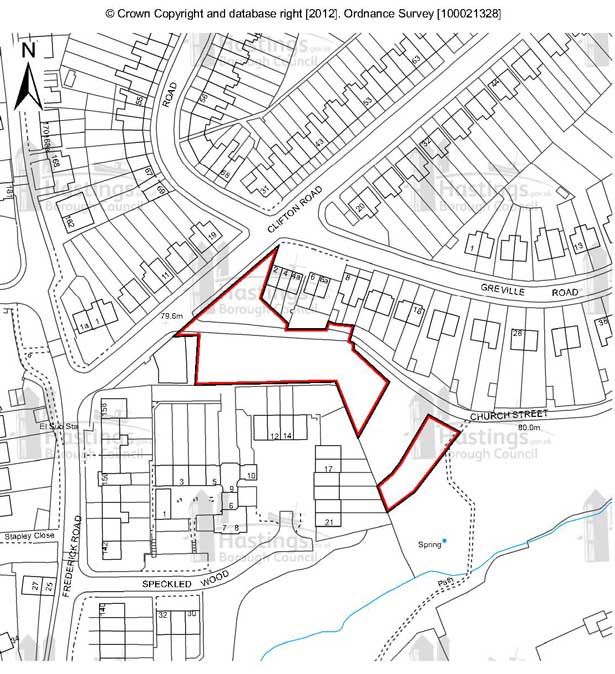 The site plan in Hastings
As interest gathers, thoughts are likely to turn to the likely initial outlay for securing the land.
Justin May from Campbell's, a local estate agent, admits it would be difficult to gauge the value of an area that currently lacks planning: "My guess would be that you'd be looking at roughly 20% of the gross development value. Essentially, this would be around £210,000".
For further details on this available land, please contact the Hastings Borough Council Planning Department on 01424 451090 or e-mail This email address is being protected from spambots. You need JavaScript enabled to view it. . The deadline for expressions of interest is Thursday 28th February 2013.
Click here to explore the site.
What's your view on the Land Auction Pilot programme? Will it stimulate growth in the self build sector? Have your say below...